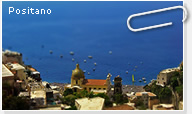 Positano Photogallery
Hotel Eden Roc Positano
The Eden Roc Suites Hotel is aptly named, for you will surely feel you have discovered Eden as you...
Hotel Pasitea
Located on the characteristic "rock of Positano" the Best Western Hotel Pasitea is a perfect exa...
Tramonto D'Oro (Praiano)
In The Heart of the World-wide celebrated Amalfi Coast, the Hotel Tramonto D'Oro, literally "Golden ...
Villa Gabrisa
Hotel in Positano located in a fabulous residential section of Positano, Villa Gabrisa is only a 10 ...
Casa Albertina
To climb heavenwards it is also possible to use the steps: those of the mythical ''Scalinatella" whi...
Hotel Montemare
The Montemare was founded 52 years ago by "Papà Vito", known as "O' Capitano", a man who truly lo...
Hotel Royal Prisco
Newly built, it offers you all the hospitality and the courtesy typical of Positano. Between the sea...
Hotel Reginella
Hotel Reginella is a typical local building situated in the heart of Positano. The hotel is surround...
La Rosa dei Venti di Positano
Harmonious and enchanting Positano, the pearl of the Amalfi coast, you can find a comfortable and el...
Pensione Il Canneto
The residence is located by the main road of Positano, probably at the most peaceful part of Amalfi ...
Villa Holiday in Positano
The Holiday Villa in Positano is one of the most desirable location for your dream holiday in Amalfi...
Villa Flavio Gioia
Villa Flavio Gioia is a luxury residence, property of the Cinque family, result a just renovated old...
Alcione Residence Positano
An ideal position in the breathtaking town of Positano, Residence Alcione is located across the stre...
La Rosa dei Venti
La Rosa dei Venti of Positano is a wonderfull residence situated in the oldest part of Positano the ...
Villa degli dei
Four-hundred fifty meters above sea level of the Amalfi Coast sits Nocelle - a precious, pastoral vi...
getting to Positano by bus

Getting to Positano by bus is bound to be a good solution, especially if you have travelled by plane or train before, as travelling using this means of transport provides you with a wonderful opportunity of enjoying a panoramic ride along the Amalfi Coast.
Buses to Positano, especially if they are coming from the Sorrentine Peninsula, gives you the opportunity of viewing, from the top of the SS163, the wonderful landscapes of the Amalfi Coast.

If you decide to travel to Positano by bus, there are many different alternatives to consider. For example, if you want to get to Positano form Naples, you can get a bus Naples - Salerno (and vice versa). These buses leave every morning and belong to a company called SITA which ensures good connections to Amalfi, Positano and Sorrento. On the way back buses depart from Amalfi at about 17h00. The fastest road by bus is the one going through Pompeii and Vietri sul Mare ending up in Amalfi. Departures from Naples to Positano are from Piazza Municipio.
Tickets can be purchased at the newsstand or tobacconist's.If you want to get to Positano leaving from Sorrento (or vice versa, Sorrento from Positano) you can catch the SITA buses leaving from Sorrento to Amalfi. You would also need to purchase the bus tickets from a newsstand or tobacconist. The rides have about 15 stops - one of these is the Positano bus stop - and leave every hour.Finally if you want to get to Positano from Salerno, you can take the direct bus to Amalfi (or vice versa, buses leaving from Amalfi to Salerno). These buses stop in all the most beautiful places along the Amalfi coast.
Guides
Accessori Moda ..
Positano Accessori Positano, una nuova azienda che continua la tradizione di famiglia e che si speci...
Banner Testuali
For your advertising on
PositanoLife.it
Someone looks for yoursel
You make it easy
News Letter