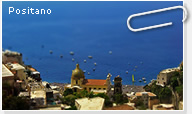 Positano Photogallery
Hotel Eden Roc Positano
The Eden Roc Suites Hotel is aptly named, for you will surely feel you have discovered Eden as you...
Hotel Pasitea
Tramonto D'Oro (Praiano)
In The Heart of the World-wide celebrated Amalfi Coast, the Hotel Tramonto D'Oro, literally "Golden ...
Villa Gabrisa
Hotel in Positano located in a fabulous residential section of Positano, Villa Gabrisa is only a 10 ...
Casa Albertina
To climb heavenwards it is also possible to use the steps: those of the mythical ''Scalinatella" whi...
Hotel Montemare
Hotel Royal Prisco
Newly built, it offers you all the hospitality and the courtesy typical of Positano. Between the sea...
Hotel Reginella
Hotel Reginella is a typical local building situated in the heart of Positano. The hotel is surround...
La Rosa dei Venti di Positano
Harmonious and enchanting Positano, the pearl of the Amalfi coast, you can find a comfortable and el...
Pensione Il Canneto
The residence is located by the main road of Positano, probably at the most peaceful part of Amalfi ...
Villa Holiday in Positano
The Holiday Villa in Positano is one of the most desirable location for your dream holiday in Amalfi...
Villa Flavio Gioia
Villa Flavio Gioia is a luxury residence, property of the Cinque family, result a just renovated old...
Alcione Residence Positano
An ideal position in the breathtaking town of Positano, Residence Alcione is located across the stre...
La Rosa dei Venti
La Rosa dei Venti of Positano is a wonderfull residence situated in the oldest part of Positano the ...
Villa degli dei
Four-hundred fifty meters above sea level of the Amalfi Coast sits Nocelle - a precious, pastoral vi...
Guides
Typical product..
Banner Testuali
For your advertising on
PositanoLife.it
Someone looks for yoursel
You make it easy
News Letter