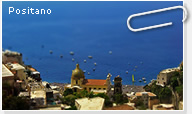 Positano Photogallery
Hotel Eden Roc Positano
The Eden Roc Suites Hotel is aptly named, for you will surely feel you have discovered Eden as you...
Hotel Pasitea
Located on the characteristic "rock of Positano" the Best Western Hotel Pasitea is a perfect exa...
Tramonto D'Oro (Praiano)
In The Heart of the World-wide celebrated Amalfi Coast, the Hotel Tramonto D'Oro, literally "Golden ...
Villa Gabrisa
Hotel in Positano located in a fabulous residential section of Positano, Villa Gabrisa is only a 10 ...
Casa Albertina
To climb heavenwards it is also possible to use the steps: those of the mythical ''Scalinatella" whi...
Hotel Montemare
The Montemare was founded 52 years ago by "Papà Vito", known as "O' Capitano", a man who truly lo...
Hotel Royal Prisco
Newly built, it offers you all the hospitality and the courtesy typical of Positano. Between the sea...
Hotel Reginella
Hotel Reginella is a typical local building situated in the heart of Positano. The hotel is surround...
La Rosa dei Venti di Positano
Harmonious and enchanting Positano, the pearl of the Amalfi coast, you can find a comfortable and el...
Pensione Il Canneto
The residence is located by the main road of Positano, probably at the most peaceful part of Amalfi ...
Villa Holiday in Positano
The Holiday Villa in Positano is one of the most desirable location for your dream holiday in Amalfi...
Villa Flavio Gioia
Villa Flavio Gioia is a luxury residence, property of the Cinque family, result a just renovated old...
Alcione Residence Positano
An ideal position in the breathtaking town of Positano, Residence Alcione is located across the stre...
La Rosa dei Venti
La Rosa dei Venti of Positano is a wonderfull residence situated in the oldest part of Positano the ...
Villa degli dei
Four-hundred fifty meters above sea level of the Amalfi Coast sits Nocelle - a precious, pastoral vi...
Restaurants of Positano
As it is a place for V.I.P.'s and important figures of the international jet set, as well as for ordinary tourists, romantic couples and families looking for a relaxing holiday, this wonderful tourist destination on the Amalfi Coast, demands that it provides and satisfies a variety of palates.

For this reason, the gastonomical offerings of Positano are wide, varied, rich in choices and suitable to all pockets. It's a good idea that, before deciding which restaurant in Positano to choose, better you have a clear idea of what each offers. Keep in mind that if you want to eat in one of the trendy restaurants in Positano, one of those where you may be seated next to a famous star, politician or high-finance man, expect to pay a high price.However, there are also many restaurants and trattoria in Positano where food lovers can eat well without spending a small fortune, so don't believe everything you hear about Positano! The restaurants, which have made the cuisine in Positano world-famous, offer more than just local specialities and dishes typical of the Amalfi Coast – they have a wide selection from which to choose on their menu's, and there are restaurants which serve nouvelle cuisine and others which focus on typical dishes of this area.

Somehow though, wherever you eat, even a simple pizza in Positano seems to have a particular taste…perhaps it is something in the air…the atmosphere…the landscapes, maybe the ingredients and preparation, but pizza's in Positano taste different, better…maybe it's just the magic that Positano weaves…..
Guides
Gym
Gym Praiano G. Scirea
Our gym is one of the largest and best equipped of the Amalfi Coast and is t...
Banner Testuali
For your advertising on
PositanoLife.it
Someone looks for yoursel
You make it easy
News Letter