Hotel Eden Roc Positano
The Eden Roc Suites Hotel is aptly named, for you will surely feel you have discovered Eden as you...
Hotel Pasitea
Located on the characteristic "rock of Positano" the Best Western Hotel Pasitea is a perfect exa...
Tramonto D'Oro (Praiano)
In The Heart of the World-wide celebrated Amalfi Coast, the Hotel Tramonto D'Oro, literally "Golden ...
Villa Gabrisa
Hotel in Positano located in a fabulous residential section of Positano, Villa Gabrisa is only a 10 ...
Casa Albertina
To climb heavenwards it is also possible to use the steps: those of the mythical ''Scalinatella" whi...
Hotel Montemare
The Montemare was founded 52 years ago by "Papà Vito", known as "O' Capitano", a man who truly lo...
Hotel Royal Prisco
Newly built, it offers you all the hospitality and the courtesy typical of Positano. Between the sea...
Hotel Reginella
Hotel Reginella is a typical local building situated in the heart of Positano. The hotel is surround...
La Rosa dei Venti di Positano
Harmonious and enchanting Positano, the pearl of the Amalfi coast, you can find a comfortable and el...
Pensione Il Canneto
The residence is located by the main road of Positano, probably at the most peaceful part of Amalfi ...
Villa Holiday in Positano
The Holiday Villa in Positano is one of the most desirable location for your dream holiday in Amalfi...
Villa Flavio Gioia
Villa Flavio Gioia is a luxury residence, property of the Cinque family, result a just renovated old...
Alcione Residence Positano
An ideal position in the breathtaking town of Positano, Residence Alcione is located across the stre...
La Rosa dei Venti
La Rosa dei Venti of Positano is a wonderfull residence situated in the oldest part of Positano the ...
Villa degli dei
Four-hundred fifty meters above sea level of the Amalfi Coast sits Nocelle - a precious, pastoral vi...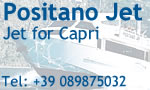 Events Positano
The Monastery of Padula - The Chartreuse of Padula
01-05-2007
François Lenormant, professor of archaeology at the National Library of Paris in 1883, when visited the Chartreuse of Padula on his journey through Southern Italy wrote:
"I went to sit in the Great Cloister. There were many clouds, driven by a violent wind, passing swiftly in front of the full moon producing continuous sudden changes that ranged from profound darkness to brilliant light. There is nothing more enchanting than the effect of these drops of nocturnal light which at times reveal the architecture in all its extraordinary purity down to the smallest detail, and at times conceal it completely. These sudden changes in light seemed to conjure up white phantoms in the depths of the porticos as though the ghosts of the old inhabitants of the monastery had risen, as was their custom, to celebrate night office. I would willingly have stayed until dawn... but tiredness was the stronger. Sleep overcame me and I had to return to my cell where I immediately slept... despite the intense cold and the wind which swept in freely through the glassless windows ".
St. Lawrence Carthusian Monastry is one of the most impressive buildings of all the Southern Italy, and, as usual, it is virtually unknown to the people that look for a cultural holiday in Italy. It is the second largest Chartreuse in Italy after the one in Parma. It was founded by Tommaso San Severino in 1306 on the site of an existing coenoby. It is dedicated to St. Lawrence, and its architectural structure recalls the grate upon which the saint was burnt alive. According to the stern carthusian rules between contemplation and work in use in the Chartreuse there are two distinct places for these practices: the peaceful cloisters, the library with its nice fine Vietri ceramic tiled floor, the chapels decorated with fine inlaid marble works, the cloister orchards ; and the large kitchen - where the legendary one thousands egg omelette was cooked for Charles V -, the cellars with their enormous wine vats, the laundries, and the huge external yards, where there were people working at the stables, ovens, stores, and at the olive oil mill. The yards were used for productive activities and for trade exchanges of the Chartreuse with the external world. The Monastery houses the archaelogical museum of Western Lucania, which preserves a collection of all the finds unearthed in the excavations at the necroplis of Sala Consilina and Padula. This museum represent a period of time ranging from proto-history to the Ellenisitc Age.


Events in Positano
04-06-2012
-
31-12-2011
-
16-08-2011
-
29-07-2011
-
Mare, Sole e Cultura program 2011
27-07-2011
-
Wednesday, July 27, 2011 Events in Positano
26-07-2011
-
Tuesday, July 26, 2011 Events in Positano
25-07-2011
-
Monday, July 25, 2011 Events in Positano
24-07-2011
-
Sunday, July 24, 2011 Events in Positano
24-07-2011
-
Positano Children's World 2011
23-07-2011
-
Saturday, July 23, 2011 Events in Positano
23-07-2011
-
Mare, Sole e Cultura Positano 2011
03-04-2011
-
Easter's holiday 2011 in Positano
31-12-2010
-
New Year's Eve 2011 in Positano
25-12-2010
-
CHRISTMAS PARTY 2010
16-08-2010
-
Positano Beach Party
18-07-2010
-
Summer Event Positano 2010: Prime Note D'Estate
15-06-2010
-
St. Vito's Feast protector Saint of Positano
14-02-2010
-
Positanos Carnival 2010
31-12-2009
-
New Year in Positano
25-12-2009
-
Christmas in Positano
29-11-2009
-
The best hotels open during the Christmas holidays 2009-2010..
01-05-2009
-
Amalfi Coast Orchestra
22-11-2008
-
Jazz Concert in Positano
24-07-2008
-
Saving the Vallone Porto OASI of Positano
09-07-2008
-
Antonio Monda
04-07-2008
-
Events and News in Positano: Mare Sole e cultura!
23-06-2008
-
Amalfi Coast Summer Event 2008
21-06-2008
-
Positano Event 2008 Concert on the Beach.
08-05-2008
-
Optics Vision Point Positano
04-05-2008
-
Best Residence in Positano 2008
02-05-2008
-
The most beautiful Hotels in Positano
01-05-2008
-
First May in Positano
27-04-2008
-
Positano WebSite
23-03-2008
-
Happy Easter in Positano
08-03-2008
-
Lady's Party 2008 in Positano
18-02-2008
-
Garbage's phenomenon doesn't strike Positano
31-12-2007
-
Happy New Year in Positano
14-12-2007
-
December 25Th in Positano
26-10-2007
-
European Conference "POSIT.IVE Changes"
13-10-2007
-
Positano CHARITY DAY 2007
29-09-2007
-
Fashion Shows Moda Positano
01-09-2007
-
Léonide Massine Positano Award for the Art of Dance 2007
15-08-2007
-
Assumption of the Blessed Virgin Mary
15-07-2007
-
Zeffirelli: An Autobiography Positano 2007
13-07-2007
-
Events Summer in Positano 2007
06-07-2007
-
Alfonso Signorini Eventi Positano 2007
27-06-2007
-
Vikram Chandra - Sacred Games
17-06-2007
-
Stefano Rodotà: Life and Law
15-06-2007
-
Italy's Slow Cities: Summer Party Positano 2007
08-06-2007
-
ENZO AVITABILE & BOTTARI in Positano
07-06-2007
-
Sud Express di Franco Del Prete
06-06-2007
-
Neapolitan Dance: Tarantella
05-06-2007
-
Concert in Positano 5 June 07
04-06-2007
-
Mediterranean Music Positano 2007
01-06-2007
-
Positano Live on TV
26-05-2007
-
Clean Up the Med 2007
25-05-2007
-
Clean-up Positano Amalfi Coast
20-05-2007
-
Capri: Sound Of Silence
19-05-2007
-
Minori Amalfi Coast
15-05-2007
-
Positano Events & Art Festival 2007
14-05-2007
-
90° GIRO D'ITALIA Sporting Tours
13-05-2007
-
"Riscopri il fascino di Amalfi"
12-05-2007
-
Cultural Week in Amalfi - Positano
11-05-2007
-
Positano Art Festival 2007
09-05-2007
-
ITALIAN OIL AND VINEGAR
08-05-2007
-
Amalfi and Amalfi Coast History
06-05-2007
-
Travel Guide Positano - Amalfi - Ravello
27-04-2007
-
Ravello Villa Rufolo
BACK
Request for information
Please complete the form and we will get back to you as soon as possible. Thank you

Guides
Rent a Boat
"Lucibello" Positano boat rental was founded by Salvatore Lucibello, a skilful fisherman who, during...
Banner Testuali
For your advertising on
PositanoLife.it
Someone looks for yoursel
You make it easy
News Letter