Hotel Eden Roc Positano
The Eden Roc Suites Hotel is aptly named, for you will surely feel you have discovered Eden as you...
Hotel Pasitea
Located on the characteristic "rock of Positano" the Best Western Hotel Pasitea is a perfect exa...
Tramonto D'Oro (Praiano)
In The Heart of the World-wide celebrated Amalfi Coast, the Hotel Tramonto D'Oro, literally "Golden ...
Villa Gabrisa
Hotel in Positano located in a fabulous residential section of Positano, Villa Gabrisa is only a 10 ...
Casa Albertina
To climb heavenwards it is also possible to use the steps: those of the mythical ''Scalinatella" whi...
Hotel Montemare
The Montemare was founded 52 years ago by "Papà Vito", known as "O' Capitano", a man who truly lo...
Hotel Royal Prisco
Newly built, it offers you all the hospitality and the courtesy typical of Positano. Between the sea...
Hotel Reginella
Hotel Reginella is a typical local building situated in the heart of Positano. The hotel is surround...
La Rosa dei Venti di Positano
Harmonious and enchanting Positano, the pearl of the Amalfi coast, you can find a comfortable and el...
Pensione Il Canneto
The residence is located by the main road of Positano, probably at the most peaceful part of Amalfi ...
Villa Holiday in Positano
The Holiday Villa in Positano is one of the most desirable location for your dream holiday in Amalfi...
Villa Flavio Gioia
Villa Flavio Gioia is a luxury residence, property of the Cinque family, result a just renovated old...
Alcione Residence Positano
An ideal position in the breathtaking town of Positano, Residence Alcione is located across the stre...
La Rosa dei Venti
La Rosa dei Venti of Positano is a wonderfull residence situated in the oldest part of Positano the ...
Villa degli dei
Four-hundred fifty meters above sea level of the Amalfi Coast sits Nocelle - a precious, pastoral vi...
- Refreshment - Restaurants & Music Bar
Next2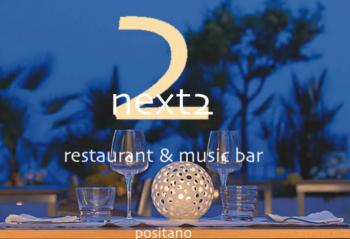 It's rare to find a hidden gem in a place as well trodden as Positano, but that is exactly what Next2 is. The locals flock here on weekends so that midnight on a Saturday feels like a large table-hopping family reunion at which outsiders are extremely welcome. Considering the fun of all this, the food is far more delicious than it needs to be, with ambitious dishes such as the supremely tender "Italian sushi," the fish and vegetable tempura, and traditional favorites like carpaccio di orata with pink pepper and mint and smoked tuna with zucchini and mozzarella. Rare local bottles fill out the wine list, and the graciously unobtrusive, unusually prompt service is in itself a find. Admire the slick all-white dining room and bar from a distance; the vine-covered courtyard, lit by bucket candles on every table and alive with happy chatter, is the place to be. Delightful and delicious, it won't break the bank.
Restaurant & Music Bar of Positano
Next 2
Via Pasitea, 242 Positano Amalfi Coast (SA) Italy.
E-mail:
info@positanolife.it
BACK
Request for information
Please complete the form and we will get back to you as soon as possible. Thank you


Guides
Accessori Moda ..
Positano Accessori Positano, una nuova azienda che continua la tradizione di famiglia e che si speci...
Banner Testuali
For your advertising on
PositanoLife.it
Someone looks for yoursel
You make it easy
News Letter