Hotel Eden Roc Positano
The Eden Roc Suites Hotel is aptly named, for you will surely feel you have discovered Eden as you...
Hotel Pasitea
Located on the characteristic "rock of Positano" the Best Western Hotel Pasitea is a perfect exa...
Tramonto D'Oro (Praiano)
In The Heart of the World-wide celebrated Amalfi Coast, the Hotel Tramonto D'Oro, literally "Golden ...
Villa Gabrisa
Hotel in Positano located in a fabulous residential section of Positano, Villa Gabrisa is only a 10 ...
Casa Albertina
To climb heavenwards it is also possible to use the steps: those of the mythical ''Scalinatella" whi...
Hotel Montemare
The Montemare was founded 52 years ago by "Papà Vito", known as "O' Capitano", a man who truly lo...
Hotel Royal Prisco
Newly built, it offers you all the hospitality and the courtesy typical of Positano. Between the sea...
Hotel Reginella
Hotel Reginella is a typical local building situated in the heart of Positano. The hotel is surround...
La Rosa dei Venti di Positano
Harmonious and enchanting Positano, the pearl of the Amalfi coast, you can find a comfortable and el...
Pensione Il Canneto
The residence is located by the main road of Positano, probably at the most peaceful part of Amalfi ...
Villa Holiday in Positano
The Holiday Villa in Positano is one of the most desirable location for your dream holiday in Amalfi...
Villa Flavio Gioia
Villa Flavio Gioia is a luxury residence, property of the Cinque family, result a just renovated old...
Alcione Residence Positano
An ideal position in the breathtaking town of Positano, Residence Alcione is located across the stre...
La Rosa dei Venti
La Rosa dei Venti of Positano is a wonderfull residence situated in the oldest part of Positano the ...
Villa degli dei
Four-hundred fifty meters above sea level of the Amalfi Coast sits Nocelle - a precious, pastoral vi...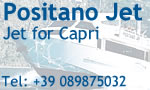 Events Positano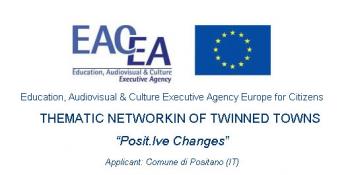 European Conference "POSIT.IVE Changes"
26-10-2007
In implementation of the project "POSIT.IVE CHANGES" presented along with the municipalities of Amaroussion (GREECE), Albestii de Muscel (ROMANIA) and Mendavia (SPAIN), as part of the European program called "Citizens for Europe-Networks Issues", and approved by the European Commission, the City of Positano is preparing to sign an agreement twinning (Pact brotherhood) with the above-mentioned municipalities partners.
The official symbol of conduct will be followed by a European Conference on the theme of climate change and the impact on the allocation of available resources, being organized from 26 to 28 October 2007 at the Congress Hall "Covo dei Saraceni".
The Conference wants to be a reflection and a beginning of confrontation and debate to promote, even in small areas, the culture of most rational of available resources and their most careful protection, through policies aimed more widespread use of energy renewable and / or "clean" the development of so-called "seasonal", to use the tools of financial support offered by current legislation regional and community, in the context of the increasing attention paid by the policies of the European Commission and the environmental issue in perspective the revival of the territory of Campania a strong tourist destination, which is our territorial District.
The Conference, which involves representatives of European institutions and the government, as well as regional and local institutions, the University community, and authoritative experts will therefore offer an effective contribution, in terms of reflection and synthesis for administrative action for the partnership and consultation.
The initialling of the Agreement, to witness a common belief that unites the peoples involved, on the assumption of the value of twinning as a means of comparison and intercultural dialogue, it will be an opportunity to share with the Italian authorities and foreign present a moment of great importance and for the life of local communities in our countries, which will work in the exchange of experiences and the development of joint projects, both supranational, as contribution to the development of a single European citizenship.
Download the complete programme and other informations in Guide Section of Positano Life . it

Events in Positano
04-06-2012
-
31-12-2011
-
16-08-2011
-
29-07-2011
-
Mare, Sole e Cultura program 2011
27-07-2011
-
Wednesday, July 27, 2011 Events in Positano
26-07-2011
-
Tuesday, July 26, 2011 Events in Positano
25-07-2011
-
Monday, July 25, 2011 Events in Positano
24-07-2011
-
Sunday, July 24, 2011 Events in Positano
24-07-2011
-
Positano Children's World 2011
23-07-2011
-
Saturday, July 23, 2011 Events in Positano
23-07-2011
-
Mare, Sole e Cultura Positano 2011
03-04-2011
-
Easter's holiday 2011 in Positano
31-12-2010
-
New Year's Eve 2011 in Positano
25-12-2010
-
CHRISTMAS PARTY 2010
16-08-2010
-
Positano Beach Party
18-07-2010
-
Summer Event Positano 2010: Prime Note D'Estate
15-06-2010
-
St. Vito's Feast protector Saint of Positano
14-02-2010
-
Positanos Carnival 2010
31-12-2009
-
New Year in Positano
25-12-2009
-
Christmas in Positano
29-11-2009
-
The best hotels open during the Christmas holidays 2009-2010..
01-05-2009
-
Amalfi Coast Orchestra
22-11-2008
-
Jazz Concert in Positano
24-07-2008
-
Saving the Vallone Porto OASI of Positano
09-07-2008
-
Antonio Monda
04-07-2008
-
Events and News in Positano: Mare Sole e cultura!
23-06-2008
-
Amalfi Coast Summer Event 2008
21-06-2008
-
Positano Event 2008 Concert on the Beach.
08-05-2008
-
Optics Vision Point Positano
04-05-2008
-
Best Residence in Positano 2008
02-05-2008
-
The most beautiful Hotels in Positano
01-05-2008
-
First May in Positano
27-04-2008
-
Positano WebSite
23-03-2008
-
Happy Easter in Positano
08-03-2008
-
Lady's Party 2008 in Positano
18-02-2008
-
Garbage's phenomenon doesn't strike Positano
31-12-2007
-
Happy New Year in Positano
14-12-2007
-
December 25Th in Positano
13-10-2007
-
Positano CHARITY DAY 2007
29-09-2007
-
Fashion Shows Moda Positano
01-09-2007
-
Léonide Massine Positano Award for the Art of Dance 2007
15-08-2007
-
Assumption of the Blessed Virgin Mary
15-07-2007
-
Zeffirelli: An Autobiography Positano 2007
13-07-2007
-
Events Summer in Positano 2007
06-07-2007
-
Alfonso Signorini Eventi Positano 2007
27-06-2007
-
Vikram Chandra - Sacred Games
17-06-2007
-
Stefano Rodotà: Life and Law
15-06-2007
-
Italy's Slow Cities: Summer Party Positano 2007
08-06-2007
-
ENZO AVITABILE & BOTTARI in Positano
07-06-2007
-
Sud Express di Franco Del Prete
06-06-2007
-
Neapolitan Dance: Tarantella
05-06-2007
-
Concert in Positano 5 June 07
04-06-2007
-
Mediterranean Music Positano 2007
01-06-2007
-
Positano Live on TV
26-05-2007
-
Clean Up the Med 2007
25-05-2007
-
Clean-up Positano Amalfi Coast
20-05-2007
-
Capri: Sound Of Silence
19-05-2007
-
Minori Amalfi Coast
15-05-2007
-
Positano Events & Art Festival 2007
14-05-2007
-
90° GIRO D'ITALIA Sporting Tours
13-05-2007
-
"Riscopri il fascino di Amalfi"
12-05-2007
-
Cultural Week in Amalfi - Positano
11-05-2007
-
Positano Art Festival 2007
09-05-2007
-
ITALIAN OIL AND VINEGAR
08-05-2007
-
Amalfi and Amalfi Coast History
06-05-2007
-
Travel Guide Positano - Amalfi - Ravello
01-05-2007
-
The Monastery of Padula - The Chartreuse of Padula
27-04-2007
-
Ravello Villa Rufolo
BACK
Request for information
Please complete the form and we will get back to you as soon as possible. Thank you

Guides
Rent a Boat
"Lucibello" Positano boat rental was founded by Salvatore Lucibello, a skilful fisherman who, during...
Banner Testuali
For your advertising on
PositanoLife.it
Someone looks for yoursel
You make it easy
News Letter